Psx
Jump to navigation
Jump to search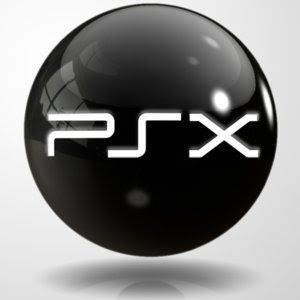 Emulated Systems: Sony PlayStation
Emulator last updated: Feb 29, 2008
Current Official Version: 1.13
Overview
Development and History
Variants and Forks
Alternative Emulators
Playstation: http://emulation.gametechwiki.com/index.php/PlayStation_emulators#Emulators
QuickStart
Installation and Operation
Download Locations
http://www.emulator-zone.com/doc.php/psx/psx_em.html
Pre-requisites
Hardware Considerations
Installation Process
Plugins and Setups
Available Plugins
Graphics
You can stretch the image to fit your monitor. Go: pSX>File>Configuration>Graphics. Set up your monitor details, then set aspect ratio to 4:3: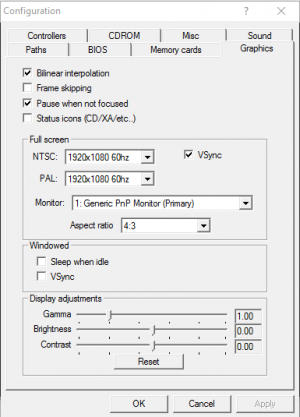 Audio
Controllers
Netplay/Network
Operation
Hotkeys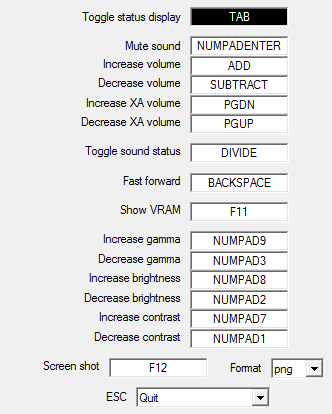 Running Game Files
Command Line
Bugs/Glitches
Support Apps for the Emulator
You can't access everything from the Psx gui (e.g. fullscreen resolution). This utility lets you access all the settings:
https://sites.google.com/site/ultimasites/psx-frontend
Game Specific Considerations
GameEx Setup
GEmvoy
Memory Cards:
To create and use per-game cards:
"When you're "selecting" a memory card on the Memory cards tab in the Configuration window, just type in the name of the new memory card file, and press OK, and pSX will automatically create the memory card file." (Psx forum)
So, for GEmvoy setup - run psxfin. Go to Configuration>MemoryCards, then click "..." You can then navigate to the cards slot and to create new cards, just type a name into the box.
If you're using the standard Algorithm, make sure you create two cards named "psxfin1" and "psxfin2". Also, use Save per-game settings
References
External Links
Official Site: Defunct :(
Emu Gen: http://emulation.gametechwiki.com/index.php/PSX